Not exactly a lets play because Im only taking screen caps of things I find funny/fucked up. And since this is a type-moon game and they're notorious for their gruesome (and plentiful!) bad ends (and how easy it is to get them) I will warn ahead of time, that this will contain pretty gruesome dialogue. As far as I know in terms of gore visually the screen is usually just black with a splatter of blood, but the dialogue is VERY descriptive. Even still i'll hide every bad end image in spoiler tags for people who dont wanna look at them and pass them over to a later post i've made.
So I decide "Hey Fate/Stay Night is pretty cool and their characters are always facing off with Melty Blood's characters, I should play the VN so I can maybe like them and not always instantly root for the Tsukihime/Melty Blood cast to win lol" And from what I had already seen from some of the cast (A few eps of the anime and the ps2 fighting game) I liked them for the most part. So now im playing this over million word long Visual Novel! yayyyyyyyy
at least theres sex at some point............maybe like 40 hours into the game
In this screen cap, our hero Shirou Emiya is complaining about innocent and hardworking people dying because of bad people and fires and shit. Mainly fires cause he was in one ten years ago. "Am I greedy to want an ending where everybody is safe and happy?"
Fate/Stay Night is a Type Moon Game.
Buddy, you're far beyond greedy. You're fucking delusional.

After the above shot, he goes to work at his two part time jobs, sees a mysterious figure (except it isnt) on top of a roof and goes home. He then has a dream about him and a shit ton of people dying in a fire, which happened to him ten years ago (minus the him dying part)
I see, nothing unusual. Im relieved.
He has to have had this dream every fucking day to the point where Fuji-Nee (the girl on the left who says the above line) just stopped giving a flying fuck. That or the fact that Shiro can just get up and go "Ah the usual. People burning and dying." may be a problem in of itself. Well its better than having dreams of rape...........
IM LOOKING AT YOU SHIKI
Later that day he stays late after school (NEVER DO THIS IN A FUCKING TYPE-MOON VISUAL NOVEL.) to help the Archery club clean up. Alone. At night. In a type-moon visual novel. Idiot ball trope acquired. He then sees two guys, one in red with swords and one in blue with a spear fighting. Blue guy sees him and goes "Yo time to die bro." Chases him through the school and finally runs poor dumb Shiro through the heart. And the above scenario plays out. But as far as I could tell from how the screen was moving in the game it seems more like he got a bad batch of cocaine.

And this. This is right after hes run through the heart and a random person saves his poor life. His response after getting killed and revived? He goes into a classroom, and grabs a mop and bucket and begins to mop the area where he got jumped. Maybe its just me but I think i'd hightail it outta the place I just got murdered at if i were given a second chance.
I get hotter as I walk.
What is he taking his clothes off progressively as he goes home?
Dude gets home to find out spear guy is like "Yo wait you're alive again. Fuck this is mafia level shit I have to rub you out." so he collapses as soon as he gets to the living room (understandable, his chest still has a hole in it, the person who revived him just fixed the hole in his heart. LITERALLY.) Lights go out and he hears crashing. He knows what it is, and the above screenshot is his reaction. Kinda depressing.
But then he decides "FUCK THAT. Im the main character and I have women I must make nookie with before I accept dying! Hes gonna fight back! BUT FIRST!:

He needs a weapon. To fight, you need a weapon. Dutly noted Shiro.
It goes as well as you'd expect (by the way he uses his magic powers to make a poster Fuji-Nee left behind really really hard. And uses it like a sword), seeing as he has next to no combat experience, and he STILL HAS A HOLE IN HIS CHEST. Super highly trained man (who is named Lancer, guess why) shows up, his spear(lance) and Shiro's sword clash a few times, and then Lancer decides "Well I was gonna let you hit me but I decided roundhouse kicks are cooler." So he roundhouse kicks Shiro 20 meters across the yard into a shed (which he was desperately trying to get to anyways to get a weapon! Huzzah! Or so we'd like to think.)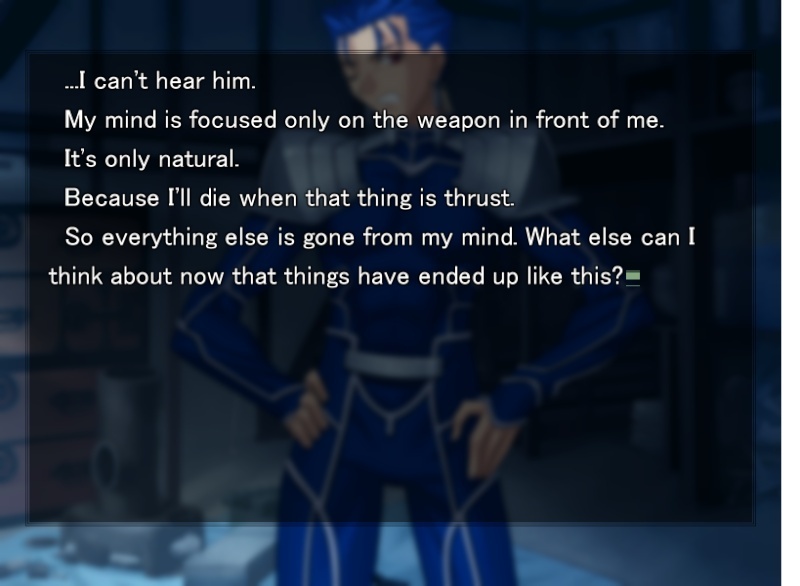 Lancer is now ready to thrust his lance into shiro. His mind is only focused on that weapon infront of him. I mean its only natural. What else can he think about when things have ended up like this?
I'll leave that scene to your imagination
spoiler: no he isnt going to shove his dick into Shiro. He's got that scary lance he killed him with back at the school in his face! not his penis!
Long story short, hes gonna get dead, blonde girl in armor shows up named Saber, shes like "Yo im your servant time to kick Lancer's ass." so she does. Till he does his surefire instant kill. Saber dodges the "Instant kill" part and this angers lancer so hard he actually rage quits the fight and leaves! Lucky! So you'd think till Saber jumps the fence and attacks Archer (the guy in red at the school) and his Master Rin
one of the bangable heroines. and my personal favorite <.<
So of course I do what is expected of me. I yell at saber to stop hurting my chances of getting laid in this death ridden hellhole of a game. Rin goes "Hey you're now forced in some war for a magic cup that grants wishes I think its kinda funny. Also I should've totally gotten saber as a servant I'd instantly win this shit." Then she decides to take me to the church, to talk to the ref of this little "war" the FALSE PRIEST Kirei whateverhislastnameisitdoesntmatterthisguyisamotherfuckingvillianWHYWOULDYOUWILLINGLYBRODCAST"FALSE PRIEST"INYOURTITLE!?!?!?
So every fiber in my body is like "Imma see this guy and hes gonna try to hide it right?"
Quite the opposite. He shows up with an evil smile, evil voice, evil background music (its organ music in a church. so much for being subtle.) and hes fucking dressed as Nero Chaos and Albert Wesker with a crucifix necklace. Holy shit lol.
He's not Scary at all.
Something ive noticed about Shiro, he's kinda stupid.

I'll let you readers finish the sentence with whatever word you wish. Also, im having a hard time locating the neon sign that says "VILLAIN" behind Kirei.
After a while Kirei remembers that the ref kinda has to relay the rules of this war. Oh they were so complicated. "Kill every servant and master. Well you dont have to kill the masters, just the servants so the masters cant fight later. Oh but if you kill the master the servants are insta dead cause persona." Because they needed a visible reason for everything in the world to have a heat seaking Shirou missile.
THEN THE FIRST DECISION!!!!!!
The entire time Shiro is saying he doesn't want any of this. So then im given the choice "Fight in the Holy Grail War" or "Quit being a Master" basically. I first make a seperate save file. Then I select "Quit being a master". Then I remember the safe or intelligent choices that would prolong your life, end them INSTANTLY. Or a few minutes later.

And this fucker rubs that fact in my face. Player punch much? Soon as I saw "We shall never meet again" and "Take pride in your choice" I knew I was on the way to a bad end. Kirei then rips Shiro's arm off and puts his finger in the open meat slab for a few seconds to remove master genes shit mumbo jumbo and just slaps the arm back on. I thought that was the bad ending. Well when I saw the screen turn red and he tore the arm off. Boy was I wrong.
BAD END AHOY. Btw I reload and pick the correct choice after it, but im keeping track of all of these fuckers. Like i said earlier, they can be pretty gruesome and disturbing, read at your own discretion
Shiro goes outside and tells Saber "Not yer master anymore. Go away." Saber pretends shes gonna kill Shiro. I thought that was the bad ending. STOP TAUNTING ME GAME AND JUST KILL ME ALREADY!!!! Thats what I thought I wanted. I thought I was ready for it. But......then I get...........THIS.
Saber goes away, Shiro is just about home. And theeeeeeeeeeen

1st thought: Why the fuck is Rubia from Tales of the Tempest here? 2nd: Through. "Someone said "You're all alone". At night. In a type-moon visual novel. Right after I told my almighty powerful knight protector servant girl Saber to beat it. "OH FU-"
Spoiler:
Spoiler:
Spoiler:
Spoiler:
Spoiler:

And this did it for me. It starts playing some disturbingly cute as fuck music as this crazy loli is telling me im being kept alive even though all my vital organs are on various neighbor's porches. At this point by the way the only thing that remains is Shiro's head. Wait. Even if you do what exactly?
Spoiler:
Spoiler:
Spoiler:
Turns out im supposed to say i'll fight. The same shit happens on the way home except Rin and Saber are with you when Beserker attacks, and saber is there to fight him off. Well Idk, i saved in the middle of the fight. I'll see in the morning after I sit on my bed in the fetal position fearing lolis
_________________
I remember this on Skype. It's worse with visuals.
_________________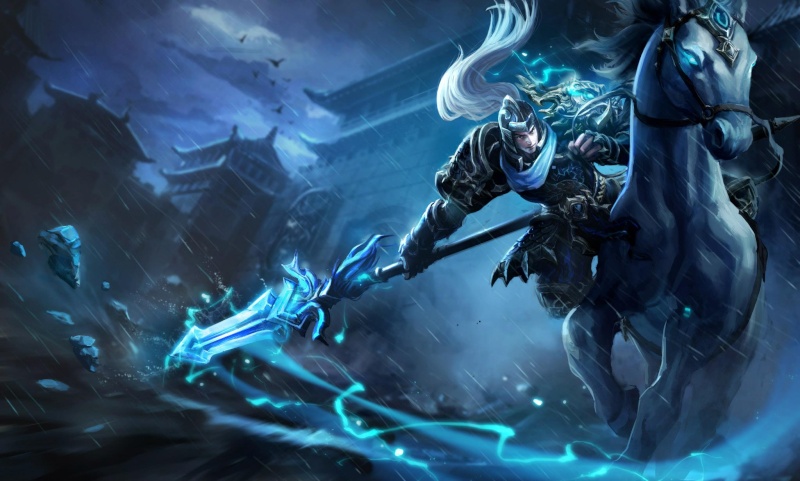 Turret Slayer!!!

RP Mod





Favorite Tales Game

:

---

Posts

: 3865


Grade

: 10581


Charm

: 107


Join date

: 2009-06-25


Age

: 28


Location

: Italy



Joker wrote:I remember this on Skype. It's worse with visuals.
The loli murderer???? Or the whole thing?
Also thanks, i'll be sure to at least update this thing twice or three times a week. Unless i have a very legit reason as to why I've dropped FSN for a while (though a really disturbing bad end would really be the only reason I can think of and those usually only put me off for a day or two)
_________________
people trying to cure me of my lolita complex left and right this week....

Grunge Hamster

Exodus




Posts

: 2897


Grade

: 8013


Charm

: 154


Join date

: 2010-04-01


Age

: 26



lol

yo lung what you doin over there

cut that out


Also is this guy a magus from the start or did they put that in him while I wasn't looking?
_________________
Catbread Corner!
Thank you Myra-Avalon for my avatar

SHSL Gang Leader

Exodus




Favorite Tales Game

:

---

Posts

: 4164


Grade

: 10611


Charm

: 566


Join date

: 2009-06-13


Age

: 28


Location

: cain town




TLS

God General





Favorite Tales Game

:

---

Posts

: 416


Grade

: 5685


Charm

: 47


Join date

: 2010-08-29


Age

: 23


Location

: The Land of /Imagination/



Hes a really crappy magus from the start.
_________________
I just wanna say sorry for the lack of updates. Xmas season=shitty family is even shittier. Im gonna try to pull a double episode to make up for the 2 and a half weeks hiatus lol
_________________
Lol this screen capping thing was pretty good too bad it looks like you stopped Masu
Also this must be posted here hope ya don't mind lol
(lol I found that screen cap and I have yet to play fate/stay night)
_________________
I'm a super high school level dangan ronpa fanboy

finalmessenger

Angel





Favorite Tales Game

:

---

Posts

: 195


Grade

: 2672


Charm

: 43


Join date

: 2012-05-30


Age

: 25


Location

: Toronto, Canada



It kinda stopped.
On the bright side, its more of I stopepd playing fate/stay for a bit, I got alot further, but the entire time i took screen caps so i can pick this up whenever need be
_________________

---
Permissions in this forum:
You
cannot
reply to topics in this forum