Page 2 of 2 •
1, 2
...Wait, it's a
WHAT?
It looks like a lion-ish creature with spikes and fire all over it.
It also comes with two "Ktugachlings", which only have two legs and no arms, but make up for it by hovering. It's a good thing Raine isn't a biologist instead of an archaeologist, or she'd have a heart attack.
Unsurprisingly, Lloyd tries to fight the boss on his own.
But he actually does pretty well. Tempest lets him hit the entire length of the thing's body and also looks cool.
In fact, Lloyd does so well that the boss dies before its mutant children do!
Lloyd wrote:Just as I expected!
Damn, Lloyd, that's hardcore!
Maybe he's an idiot savant, and is actually a tactical genius.
That means he has
another
other sole redeeming feature!
Once the boss is dead, the pit in the center does some mechanical things, which I guess is the seal being released.
Some more red lights appear and hover in the air. You might want to cover your eyes, Genis.
Remiel's voice echoes from heaven. Of course, he doesn't want to actually go down there until he's sure all the enemies have been killed.
Remiel wrote:You,
"Huh? Me?"
Remiel wrote:the Chosen of Regeneration
"Oh..."
Colette walks up to what Remiel claims is an altar and offers her prayers and all that.
Colette wrote:Oh Goddess Martel, great protector and nurturer of the earth, grant me thy strength!
Are you sure you want the strength of a comatose patient?
Well, too late! Thanks to Angel Toxicosis, that's what she'll be getting.
Remiel finally decides it's safe, and sparkles down to earth. Hey, you're not Martel!
Remiel wrote:Colette, my dear daughter, you have done well. Mwa ha ha
Colette wrote:Thank you…Fa…ther.
It's a happy family reunion!
Remiel wrote:The guardian of the seal has fallen, and the first seal has been released. Efreet will surely awaken soon.
Oh, what the hell. Did the
whole world
fall asleep!?
Remiel wrote:In the name of Cruxis, I shall grant you the power of the angels.
Well,
one
of the powers of the angels.
Colette wrote:Thank you, my lord.
Hearing this makes me a little bit angry for some reason.
Maybe I hate authority so much, that seeing other people get shafted by it bothers me. Either way, fuck you Remiel
Some colored lasers fall into Colette, and after some flashing lights (these being required by law), she suddenly has sparkly pink angel wings. Like most wings, these let her fly around without any regard to air resistance or bone density, even though they don't even move very much.
DO YOU HAVE ANY IDEA HOW FAST A HUMMINGBIRD HAS TO FLAP ITS WINGS TO HOVER IN ONE PLACE!?
NEITHER DO I
Remiel wrote:The angel transformation will not be without pain. Yet, it is but for one night.
"This time."
Remiel tells her to go to a seal found across the sea. I hope he's fine with her unlocking the seals in the wrong order.
And with that, pow! He's gone!
...Wait, no, his voice is still here. Damn.
Remiel wrote:I shall await you at the next seal, the Chosen of Regeneration, my beloved daughter, Colette.
"I GUESS I REALLY
AM
THE CHOSEN"
Finally, it's over. Man, religious ceremonies are always dull.
Lloyd wrote:Colette...has wings!
SCANNING...SCANNING...COMPLETE. WINGS IDENTIFIED.
Lloyd, you need to get a new computer.
Colette wrote:Uh-huh, and look, I can put them away, too.
Her wings disappear into hammerspace. Wow, she didn't even need a tutorial!
Genis thinks this is awesome and jumps up and down like a dork some more, but if that happened in real life it
would
be awesome, so that's fine by me.
Lloyd ignores the light show. Hey, that's breaking character!
Lloyd wrote:He said the next place is across the sea! That means we get to sail on a ship! Haha! I can't wait!
Is there anything you
can
wait for?
Raine wrote:A ship…hmm. I wonder if there are any ships sailing with the way things are right now.
DESIANS CAN SINK SHIPS BY JUST
LOOKING
AT THEM
Also, here we can see that Raine, unlike Colette (and everyone else in the game), is very good at hiding things.
Meanwhile, Colette's been flapping her wings at incredible velocities for the benefit of Genis, who's
still
jumping.
Lloyd wrote:Okay you two, we get it already. That's enough.
Yeah, seriously...
Wait, now
Lloyd's
the mature one? Did he do character development while I wasn't looking?
Colette learned Angel Feathers.
Yes, her wings can also be used as a deadly projectile weapon.
Those are the coolest stupid girly wings ever.
The party has to fight its way out of the temple.
Genis learns a valuable lesson about not being fucking retarded, as he uses fire on the fire enemies and is surprised when it doesn't work. Fortunately, he switches to Aqua Edge after that.
Genis wrote:Found your weakness!
WATER BEATS FIRE
STOP THE PRESSES
I guess they've started to get tired of their usual fighting routine, because Lloyd pulls a move called "Omega Tempest" out of nowhere, and Genis tries to imitate his sister's ball crushing technique, with some success.
Colette wrote:I'm mad now!
You sure
sound
mad all right. Nice try, though.
Her divine powers now allow her to throw
lots
of hammers! It's holy!
HEY FIRE BIRD STOP CRAPPING FIRE ON THE CHOSEN
THAT IS VERY DISRESPECTFUL
Genis wrote:Atlas!
"Atlas"?
Is he going to throw a map on the enemies? Maybe he's going to pick up the world and OH MY GOD WHEN DID HE LEARN HOW TO DO THAT
THAT'S THE BIGGEST THRUST I'VE EVER SEEN
Finally, the last damn obstacle is defeated.
Lloyd wrote:You picked the wrong guy to mess with!
You mean Kratos, right?
He
attacked
them,
you know.
Last edited by Catbread on Tue Jun 22, 2010 9:54 pm; edited 2 times in total

SHSL Gang Leader

Exodus




Favorite Tales Game

:

---

Posts

: 4164


Grade

: 11253


Charm

: 566


Join date

: 2009-06-13


Age

: 30


Location

: cain town



Fortunately, Lloyd runs up to her and starts yelling, giving her the strength to get back on her feet! ITS THE POWER OF LOVES TRUE HEART
Lloyd wrote:Colette! Are you okay?
Colette wrote:I'm...fine... (spoken as though she's almost dead)
It's no "It's nothing", but it'll do.
Of course Genis doesn't believe Colette, because she doesn't look fine at all! Never mind the half-dead voice part.
Genis wrote:Your face is completely white!
The graphics team didn't want to bother changing the color of Colette's face, so we'll just have to take Genis' word for it. SUSPENSION OF DISBELIEF ACTIVATE
Genis wrote:It's all my fault. I got carried away and kept making her pull her wings in and out.
This is about to become the dumbest apology session
ever
so far.
Lloyd wrote:I don't think that has anything to do with it…
Even Lloyd sees how dumb Genis' claim is...but he's no angel expert. For all we know, that might have been the actual reason.
Raine wrote:Now's not the time for that! Her lips are turning purple.
Uh...yes, of course.
Kratos wrote:Wait. It's best not to move her.
But guess who IS an angel expert!
Kratos explains (very slowly) that getting really sick is obviously part of Martel's trials, and that they should just wait it out.
Everyone agrees with this because lol Kratos.
Colette starts rasping that she's fine/sorry for everything. Wow, both catchphrases in one text box!
Lloyd wrote:Stop apologizing all the time, you dork! It's not as if you can help it. You were suddenly turned into an angel.
Yeah...about that...it's not exactly done yet..
Colette wrote:You're right…I'm sorry.
NOT AS SORRY AS YOU'LL BE IF YOU DON'T STOP APOLOGIZING
Lloyd pretends to be the leader and suggests they set up camp.
So they do. Although "camp" apparently means "a fire".
Of course, since everyone's about ready to sleep, that means it's time for Lloyd to run around and harass everybody!
Starting with Kratos, because lol Kratos.
Kratos wrote:Your Exsphere has an unusual color.
Your
face
has an unusual color
Oh, wait. The graphics team. Never mind.
Lloyd wrote:It does seem to be a little different from yours and the others.
Dirk wrote:I TOLD YOU THAT AT THE BEGINNING OF THE GAME, YOU HALF-WIT
Lloyd wrote:By the way, why do you have an Exsphere?
Kratos wrote:I took one from a Desian.
Dirk wrote:I TOLD YOU THAT TOO
DID YOU LISTEN TO ANYTHING I WAS SAYING
I BET YOU DIDN'T EVEN READ THE TRAVELER'S GUIDE
Lloyd ignores his father and continues listening to his father.
Kratos wrote:I heard that the Desians force the humans at the ranch to make them.
Lloyd wrote:So that's why Marble had an Exsphere, too…
Somehow I doubt Marble was thinking "I'll take this gem I'm being forced to make and jam it into my skin!"
Kratos wrote:Is it all right if I ask you something as well?
"GIVE ME YOUR NAME AND-
Wait, no. Sure, go ahead."
Kratos wants to ask Lloyd about his mysterious yet probably dead father. Wow, Kratos, you're enjoying this way too much.
Kratos wrote:So the Desians are responsible for the deaths of your parents… Your life has been completely torn apart by them.
Kratos is the best troll
Lloyd wrote:Huh?
...But Lloyd is actually too thickheaded to take the bait. Wow.
Maybe he's actually forgotten about the whole revenge thing by now.
So Kratos tries harder!
Kratos wrote:Your mother was killed and then you were chased out of your village.
Lloyd wrote:Yeah, I guess you're right.
TALES OF SYMPHONIA
WITNESS LLOYD IRVING'S EPIC QUEST FOR VENGEANCE
UNTIL HE FORGETS ABOUT IT
Instead, he delivers a dramatic speech about how the village's destruction was his fault and that he's going on a journey to absolve him of his sins or something.
TALES OF SYMPHONIA
WITNESS LLOYD IRVING'S EPIC QUEST FOR WHATEVER IT IS HE'S DECIDED HIS QUEST IS ABOUT TODAY
Kratos is all "Good job, Lloyd! Use determination to kill enemies!
That's my boy!
"
Lloyd wrote:…Why am I talking to you about this, anyway?
Ha.
Maybe you should wait until Kratos
isn't
standing right next to you before saying things like that.
He runs away and talks to Genis instead.
Genis wrote:Hey, how was the tofu curry?
How was the...eurgh!
I'll just assume it's not actually disgusting. Lloyd, what's your opinion?
Lloyd wrote:It was missing something.
What!?
Genis wrote:Wow, I'm surprised you noticed.
Ah.
This is the dialogue option that
raises
Genis' affection level. It's a trick question.
Good thing the player got it right, because otherwise Genis' affection level would be
slightly lower!!
Genis wrote:It would have been perfect if I had some Kirima fruit.
...Fruit.
I'm going to stop imagining what that would taste like. RIGHT NOW
Lloyd's surprised, because he assumed Raine made the food, even though he can see their cooking levels.
Raine wrote:Oh, will you try my cooking next time, Lloyd?
Genis wrote:If you want to live, you'd better not.
A female character who cooks outrageously terrible food, and tries to make people eat it? That's the most original thing I've ever heard of!
...Wait, I think this game was actually the first time I saw something like that. I'll be quiet now.
He goes to talk to Raine.
...Hey, why's everyone standing motionless around a campfire, anyway!?
Never mind. Raine's wondering whether Colette's
bio-something
becoming a different life form.
Lloyd wrote:Colette is Colette.
YES BUT IT MIGHT BE IMPORTANT TO KNOW WHETHER HER BIOMALOGICAMAL STRUCTURE IS CHANGING
Raine wrote:…Yes, you're right. You always point out the truth.
Genis wrote:It's because he lives only by instinct.
Are
all
half-elves
awesome
sarcastic pricks?
Yeah I'm not even going to bother putting a line through "half-elves" anymore
The last person Lloyd talks to is, as always, the main character. Of course,
this
conversation is the only one to get voice acting.
Lloyd wrote:Oh yeah. I know it's kind of late now, but here's your birthday present…
It's like he forgets and remembers things completely at random!
Colette wrote:…Oh no, it's broken.
HA
So much for being good at craftwork! Your necklace sucks and you suck!
Somehow, Colette manages to apologize for Lloyd breaking the necklace. She's basically the apology champion of the world.
Also, she can't eat anymore. We're not supposed to know this for sure yet, but Colette reassures us that she's fine, which confirms that something is wrong.
She also gets the fatal cough of death, because that's the only way they can let us in the audience know someone's sick without saying "SHE'S SICK" or "HER FACE IS DEATHLY WHITE FROM THE SICK"
Genis wrote:Colette is delicate, unlike you.
Now he's hijacking Lloyd's conversations in order to insult him! He's devoted to his work.
Lloyd wrote:Shut it!
"I
am too
delicate!"
Lloyd tries saying he's sorry to Colette, but she replies by saying she's "
really
sorry". No one can out-apologize Colette!
Colette wrote:I'm going to go for a little walk.
It almost sounds like she's trying to seduce him again, and Lloyd tries to capitalize on it this time.
Lloyd wrote:Want me to come?
Colette wrote:Thanks, but…I'll be fine by myself.
No. I refuse to say anything along the lines of "she can come by herself". That's just not my style.
Genis wrote:Ha-ha, you got re-ject-ed.
We get it, you're the best character. You don't have to keep reminding me.
Lloyd wrote:Hey, shut up, Genis!
I read that in Butt-Head's voice.
Meanwhile, a thousand miles away, Colette looks at some water and coughs some more.
Colette wrote:What's happening to me?
You mean, she's
not
fine after all!? HOW COULD THIS BE
Suddenly, it's morning, and the party heads for the coastal town of Palmacosta, because a skit called "To Palmacosta" starts.
Lloyd wrote:Professor, where are we going next?
No idea.
Raine thinks there won't be any more "clues" on the continent, as though they're solving a murder mystery.
The victim is Mithos. You'll be surprised at who the killers are!
Also, worst continent ever. Forest, desert...the end.
Genis is exited to see Palmacosta, "the biggest city in the world".
Genis wrote:...there's a school, as well.
OH BOY A SCHOOL
I guess he has to say something really dorky to make up for the proness displayed earlier.
Kratos wrote:However, if we're going to Palmacosta, we'll have to pass through the Ossa Trail.
Kratos
hates
trails.
Lloyd suggests that
the player
they go shopping at Triet before they head for the trail of suck, so they head there first.
Genis trips and falls on his face, making a comically loud "thud" noise. Coolness karma is pretty fast-acting in this game.
Genis gets a tiny scratch, and Raine goes crazy, shouting that IT MIGHT GET INFECTED!!
Ha
Ha-ha
I guess being hit in the face with giant hammers is not at all conducive to the spread of bacteria. See, Raine knows this because she is a science wizard professor.
Kratos wrote:Hmm...it is likely her love for her brother causes her to act like this.
MECHA-KRATOS ANALYZING STRANGE HUMAN EMOTION. CONCLUSION: ITS NOTHING
So Raine gets some title or something and then Kratos actually
does
go shopping.
I kind of wasn't expecting that. I thought he'd be all "Hell no. Buying stuff is for squares" like a retard.
He looks at a Colette-shaped hole in the wall and thinks about a drop of water.
Y'know, if she can push blocks and destroy walls like that, Item Thief should do a giant amount of damage and be her best attack. It would be awesome.
Finally, they go back to the inn to rest. Kratos tries to blast the inn's door down with the Sorcerer's Ring for a dramatic entrance, but it doesn't work. He should have had Colette fall into it instead.
Innkeeper wrote:Welcome to the Mirage.
THE INN IS AN ILLUSION
During the night, someone breaks into their room.
They turn on the lights, but the culprit has fled.
Hey, wait a minute...what lights? Maybe that was just Lloyd opening his eyes.
Lloyd wrote:...Some weird guy came in here.
He did what
Hey, don't make fun of Kratos.
Raine wrote:It may have been a Desian.
OH NO A DESIAN
WHAT WILL THEY DO
Genis wrote:Seems like Lloyd's always got someone after him.
Somehow, Genis makes that sound insulting. He's on a roll
today
this part.
Lloyd wrote:I'll be fine, but Colette and the Professor, you two be careful.
SEXISM
WHAT THE FUCK LLOYD
Seriously!
Genis
would have a harder time fighting off an attacker in the dark than those two!
I'm sure the Dwarven Vows have something to do with this. The dwarves are prejudiced bigots!
Somehow, they get a good night's rest, and are ready to resume their epic quest journey the next morning.
They set off across the desert, fighting enemies along the way. Genis overkills some snakes with previously unseen spells like "Ice Tornado" and "Air Blade". He'll know Indignation Judgment within a week.
But he
still
thinks it's a good idea to start casting while enemies are right next to him.

SHSL Gang Leader

Exodus




Favorite Tales Game

:

---

Posts

: 4164


Grade

: 11253


Charm

: 566


Join date

: 2009-06-13


Age

: 30


Location

: cain town



The party's walking along the Ossa Tr-
Sheena wrote:STOP
Oh, come on!
Can't these guys go without being attacked for more than five seconds!?
Lloyd wrote:What?
Lloyd can't imagine the mystery ninja being any threat at all, and I don't blame him. That's not the outfit of a killer, lady.
Colette wrote:Is she a friend of yours, Lloyd?
Yeah, because Lloyd's friends like jumping off cliffs and yelling...
Wait, I get it now.
Also, I think Colette might be jealous. Teehee
Sheena wrote:…Is the Chosen of Mana among you?
Colette wrote:Oh, that's me.
It took her a second to remember.
But introducing herself turns out to be a mistake, because the mystery woman is an assassin!
She dashes toward Colette, preparing to kill her without any weapons at all!!!
That's either hardcore or retarded. I'm not sure which.
Colette's bodyguards spring into action!
Yeah, not really. They just kind of watch as Colette randomly trips over a lever, opening a trapdoor that Sheena happened to be standing on.
...Maybe the Goddess Martel really
is
protecting her.
The "theme of lol" starts up. LOL YOU ALMOST DIED
Colette wrote:Oh, no! What should I do? I did it again…
Oh, that Colette! Always making people fall down trapdoors!
You should jump down there and apologize to the nice lady.
Raine explains that HEY COLETTE THAT WAS AN
ASSASSIN
.
Colette wrote:But...
Oh no, she really
is
going to jump down there!
Lloyd wrote:Don't worry about it. It looks like she's an enemy.
"Based on how she was shouting 'prepare to die', I'm reasonably sure that she might have been an enemy."
Even so, Colette still hopes that the assassin's okay. Next thing you know, she'll be apologizing every time she attacks.
Genis wrote:Even assuming her weight to be 45kg,
SHUT UP GENIS
Lloyd wrote:Still, man, she's got some bad luck. Standing right on top of a trapdoor and all.
Raine wrote:It's not a trap. It's a hidden maintenance passage for the mountain path.
So she's got bad luck for standing right on top of a hidden maintenance passage. Happy now?
Kratos yells at them to get moving, and they all look surprised as though they've only just noticed he was there.
Lloyd wrote:Hey! Shouldn't we try to find out who that woman was?
What, are you going to shout questions into the hole?
But Lloyd gives in, and they continue down the path and are immediately ambushed by more random assassins.
These guys are more professional, because they don't introduce themselves, instead choosing to just attack. But that doesn't stop Colette from slaughtering them without mercy.
Hmm.
Meanwhile, off in the back, Raine is in an epic struggle to heal herself faster than an assassin can knife her.
TEAMWORK
Next, the party encounters those wonderful creatures known as Mandragoras, a type of monster whose most dangerous attack is its voice.
Mandragora wrote:IIIIIIIIIIIIIIIIIIIIIIIII'M A GOOOOOOOOOOOONNNNNNNNNNNEEEEEEEEEEEEEERRRRRRRRRRRRRRRRR
And also some kind of bear that rapes people. These guys just can't catch a break.
Other attackers include the laziest archers ever, who spend most of the fight wandering around in circles and occasionally kicking people.
To deal with these, Genis uses yet another new spell.
Genis wrote:FORM A TORRENTIAL VORTEX AND ENGULF THE EVIL SPIRITS
What the hell!? Did I hear that right?
Is he casting a spell, or reciting poetry?
But then a bunch of water showed up and killed the enemies. I guess it was a spell.
Later, at a Memory Circle, Lloyd finds some treasure chests out in the open, which is odd, considering all the thieves that are wandering around.
One of them holds a Melange Gel.
Uh
Gimme a sec
Dictionary.com wrote:A metamorphic rock formation created from materials scraped off the top of a downward moving tectonic plate in a subduction zone.
Oh, okay.
Upon reaching the end of the trail, Lloyd sees a bunch of wood panels and goes "!" even though it doesn't look like there's anything odd about them.
Sheena pushes them over from the inside. Maybe they were just a prop or something.
Sheena wrote:...W...wait!
Yeah, they're not going to listen to you after you tried to kill-
Colette wrote:Oh, thank goodness!
Never mind...
Sheena wrote:D...don't move!
Raine wrote:A wise decision.
Huh?
I guess it doesn't matter, because she attacks!
Sheena wrote:Prepare to die!
*battle starts*
Sheena wrote:Time to die!
Dammit, woman, get some new lines!
She's suddenly accompanied by a "Guardian-Wind", which looks like a...
...a something. There's a wheel, and...
Fortunately it doesn't matter, because Colette uses an attack called "?????", which features question marks, a giant cutaway of her face, and exploding beams of light. The fight ends quickly.
Colette wrote:Are you okay?
Ugh.
You should just start a hospital devoted to caring for everyone you beat in a fight.
Last edited by Catbread on Thu Jul 01, 2010 6:20 am; edited 2 times in total

SHSL Gang Leader

Exodus




Favorite Tales Game

:

---

Posts

: 4164


Grade

: 11253


Charm

: 566


Join date

: 2009-06-13


Age

: 30


Location

: cain town



Thank God, that means there won't be much dialogue in this part
Sheena wrote:Ugh…Just you wait! I swear I will kill you all next time!
Wow, that sure is intimidating. Just look at how not frightened they all are.
She vanishes in a very small puff of smoke, which is actually pretty impressive.
Lloyd runs at the area she used to be standing in and shouts "wait", I guess so he could have a reasonable discussion with her about her motives. Lloyd's best skill is diplomacy!
...And then Philosopher Lloyd takes over.
Lloyd wrote:Why are people trying to kill us?
Because otherwise,
every
fight on the Ossa Trail would be against Mandragoras. *shudder*
Kratos wrote:…There are always those that reject salvation.
I'm sure this actually
is
significant somehow, but I really, really don't care. So instead:
Archer wrote:The Chosen's going to bring prosperity back to the world and end the food shortages and human ranches? That blows! I'm gonna take this bow and go kick the Chosen in the leg!
Genis, remembering the true source of evil in the world, speaks up.
Genis wrote:Maybe she's a Desian.
Kratos wrote:Who knows? At any rate, we are in constant danger.
Well, except in cutscenes.
Raine wrote:Those clothes…
Lloyd turns and sees Raine staring right at him. YOU GOT A PROBLEM WITH MY OUTFIT,
BITCH
But she was actually talking about the mystery woman's bizarre outfit.
Lloyd wrote:Professor, something wrong?
Raine wrote:…No. It's nothing. Let's go.
I guess there weren't any problems with the assassin's clothes after all!
So they leave the-
Kratos wrote:LLOYD
NOW
SKITS
ARE AMBUSHING THE PARTY
Kratos wrote:Do not forget that you are not alone.
Lloyd wrote:Yeah! I know that already!
Unison Attack is now available.
WELL THEN WHY DID YOU NEED KRATOS TO TELL YOU THAT BEFORE YOU LEARNED HOW TO DO A UNISON ATTACK
Read an explanation on how to set up Unison Attacks?
So they get the hell out of there and
Lloyd wrote:Who was that girl earlier?
Never mind, here's another skit.
Also Lloyd I think it's been established that no one knows who she was
Colette wrote:I hope we get to see her again.
Even Lloyd goes SHE WAS AN
ASSASSIN
WHAT THE HELL ARE YOU TALKING ABOUT
Unless Colette's sick of life and actually
wants
to be assassinated.
Well, now that I actually like Colette, I have to say, that's pretty depressing. Therefore I'm just going to go with the assumption that she's clinically fucking stupid.
So of course Colette goes on to say that, once they're friends, she'll have to ask the assassin why she was trying to kill her. Then she gives her manbitch the job of coming up with some crazy scheme to make them become friends. Poor manbitch
And now it's time for the actual bonus fight! Hey wait a minute that wasn't not much dialogue
The Sword Dancer's head is hopping up and down at the end of the maintenance tunnel Sheena fell into.
It must have sucked for Sheena. She regains consciousness and the first thing she sees is a bouncing skull.
He's a real HEAD CASE wrote:I...FIGHT...STRONG ONES
YOU...FACE...ME...
Lloyd goes ALRIGHT TALKING SKULL DUDE I ACCEPT YOUR CHALLENGE and the fight begins!
A big skeleton body picks up the head and puts it on, then
levitates
four oddly shaped swords into its hands. And it has four hands.
What kind of skeleton is
that!?
Was the maintenance tunnel used to transport toxic waste, or something?
Lloyd runs right up and attacks it while the rest of his party stays on the opposite side of the field and shoots it with magic, because they're not idiots.
Raine wrote:So that's the weakness!
So that's the weakness!
So that's the weakness!
I take it back.
YES RAINE IT IS
STILL
WEAK AGAINST PHOTON
The mutant skeleton's really powerful, and Lloyd gets the crap kicked out of him for a while.
Raine wrote:So that's the weakness!
So that's the weakness!
So that's the weakness!
DAMMIT RAINE CAN'T YOU DO ANYTHING ELSE
Genis wrote:PRISM STARS
Oh
It turns out that was its weakness, and it dies.
Sword Dancer wrote:I...AWAIT...NEXT TIME...
Okay, so it doesn't die.
Instead, it teleports away or something. Good job, Lloyd, now there's a mutant psychic skeleton out to get you.
Yata Mirror was found.
Uh...okay?
Maybe it's one of those mirrors that, if you spin around three times and say "redrum" at it, lets you enter Warp Zone.
SURPRISE SKIT
Lloyd wrote:I never expected to run into an enemy like that.
You mean because it was super strong, or because it could talk, or because it looked REALLY AWESOME
IT HAD FOUR ARMS AND EVERYTHING MAN
Colette wrote:He was huge. I bet he lived in a big house before he became a skeleton.
Oh god lol
Raine wrote:That may have been the end result of an elite being from the Underworld.
The end result of an...elite being?
Raine gets more incoherent every time she she opens her mouth. Maybe she's just
pretending
to be smart.
Genis wrote:The Underworld? Isn't that just a legend?
Ah, so it's real.
Raine expostumalates that there might be a world where all the wacky supernatural beings they've been fighting come from. That still doesn't explain where she came up with "the end result of an elite being", though.
Lloyd wrote:But we took him out and all, so it's okay now, right? :)
Genis wrote:I hope so...
YOU'RE BOTH IDIOTS
Pretty soon they'll start calling it a Desian, too.
Meanwhile, in a different skit, Raine's still thinking about the assassin's terrible fashion sense.
Raine wrote:It's just...the clothes that assassin was wearing, don't you think they were rather...unique?
You can see her boobs if that's what you mean.
Kratos wrote:Indeed, they aren't something you see every day.
Indeed
Lloyd suggests that they're dwarven clothes, because his dad made his trademark Noticeably Red Outfit, which looks very similar to the assassin's clothes. Yeah, he actually says that.
Kratos wrote:...Is this what happens when one is raised by a dwarf?
TALES OF RACISM
On their way out of the maintenance whatever, the party fights some THERE ARE MANDRAGORAS IN THE TUNNEL FFFFFFFFFFFFFFFFFFFFFFFFFFFFFFFFFFFFFF
Lloyd, inspired by the magic skeleton, uses an attack called "Psi Tempest", which I
was too lazy to watch the video again to see
couldn't see, so he must have been moving at speeds faster than the eye can see again.
Black Silver was found.
Hey, that's not how colors work!

SHSL Gang Leader

Exodus




Favorite Tales Game

:

---

Posts

: 4164


Grade

: 11253


Charm

: 566


Join date

: 2009-06-13


Age

: 30


Location

: cain town



_________________
Matthew O'Connell says: (3:13:42 AM)
"YOU CAN'T EVEN ASK YOUR PENIS ITS NAME!"
~°∆°[[Bizz] says: (9:24:45 PM)
You guys, I am stalking a girl from Spain.
Wist says: (9:25:06 PM)
Me too.
Lyle wrote:The song was one big saxophone solo and it has a girl dressed up like Santa Claus.

I'm so on board with this, it's not even funny.

The Universe

Exodus




Posts

: 1961


Grade

: 6878


Charm

: 6


Join date

: 2009-06-10


Location

: Everywhere.



I must say Bravo, though I am only up to 8.

But seriously did I see next to that video "Tales of Symphonia 1 Game Playthrough Part 132 (Forcystus Dead, Giant Tree Destroyed, & Disc 1 Ends)"
You are going to be doing this for some time but it will make you awesome.
Indeed.
_________________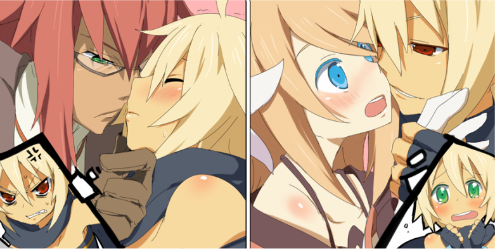 Rules
1. Talk of Twilight will NOT be tolerated.
2. Feet off the furniture.
3. ???
4. Seriously there is no Fight Club.

Pardalis

Angel





Posts

: 124


Grade

: 4177


Charm

: 10


Join date

: 2009-06-23


Age

: 30


Location

: Central, Ametris



Pardalis wrote:

I must say Bravo, though I am only up to 8.

But seriously did I see next to that video "Tales of Symphonia 1 Game Playthrough Part 132 (Forcystus Dead, Giant Tree Destroyed, & Disc 1 Ends)"
You are going to be doing this for some time but it will make you awesome.
Indeed.
Ha...thanks.
I actually haven't given up on this...I write more of it every now and again.
I'd love to finish it all, but that's not very likely, as you've seen. So I'll just keep on truckin' and see how much I can do.
Actually finishing it all would feel amazing...it's a goal, however impossible.

SHSL Gang Leader

Exodus




Favorite Tales Game

:

---

Posts

: 4164


Grade

: 11253


Charm

: 566


Join date

: 2009-06-13


Age

: 30


Location

: cain town



Page 2 of 2 •
1, 2
Similar topics
---
Permissions in this forum:
You
cannot
reply to topics in this forum