Hell to the fuck yeah.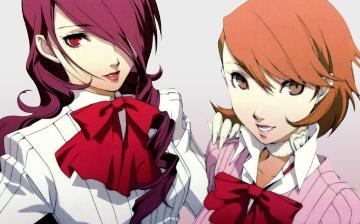 P4 has been getting way more love than 3, and honestly 3 was the better game overall in terms of story and feeling for the characters (like, they have some REAL shit and problems, on a scale that makes P4's cast just a bunch of whiny teenagers when you compare their misfortunes to the other cast. I'd say honestly the only P4 character that could give a 3 character's misfortune a run for their money is Narukami, and thats cause Dojima and Nanako), and it was pretty much kicked aside when 4 was getting fame.
They even STOPPED 3's manga, to do 4's, only to FINALLY go back to 3's 2 months ago. And they're like "Srry for the hiatus HERES SOME DEAD CHIDORI HAHAHAHAH FUCKERS"
But yeah, all that aside, at the end of the Persona 4 movie there was an announcement saying Persona 3 will be getting an animated movie.
And talk online is Mintao's name is "Eiji Kurokami"
At first i was like " :<"
But then I was like "Yo. Maguro. Its all good."
I wonder how long its gonna be though......cause if its just one movie and not a 2 or 3 part thing.......theyre gonna have to cut alot of shit D:
_________________
Yeaah...I dunno how a movie would work, unless it takes place like...the last night or something.

Or if it was like a spinoff.

OR
And this I could see

Persona 3 movie: The Answer
_________________

RESSURECTED LYLE DAYEK

Admin





Favorite Tales Game

:

---

Posts

: 9059


Grade

: 19797


Charm

: 493


Join date

: 2009-06-10


Age

: 29


Location

: Right behind you. Don't look.



Mufasa wrote:
Persona 3 movie: The Answer
Fuck.
No.
Also its about the Journey. If they cut out the subpar S.links and if its at least 2 hours long then they can do it with minimal skipping over shit I believe.
The best thing would be to make it an OVA series and give it 3 OVAS.
1 goes up to when they meet Aigis during operation babe hunt
2 goes up to Shinji's death
3 finishes it all up. if they WANT make a 4th one about the torture fest- i mean the answer.
_________________
_________________
maeko sig made by me
Shizuo Heiwajima wrote:So what did I do? I played the sax muthaf**ker!
_________________
I'm a super high school level dangan ronpa fanboy

finalmessenger

Angel





Favorite Tales Game

:

---

Posts

: 195


Grade

: 2888


Charm

: 43


Join date

: 2012-05-30


Age

: 25


Location

: Toronto, Canada




---
Permissions in this forum:
You
cannot
reply to topics in this forum